Adult & Family Resources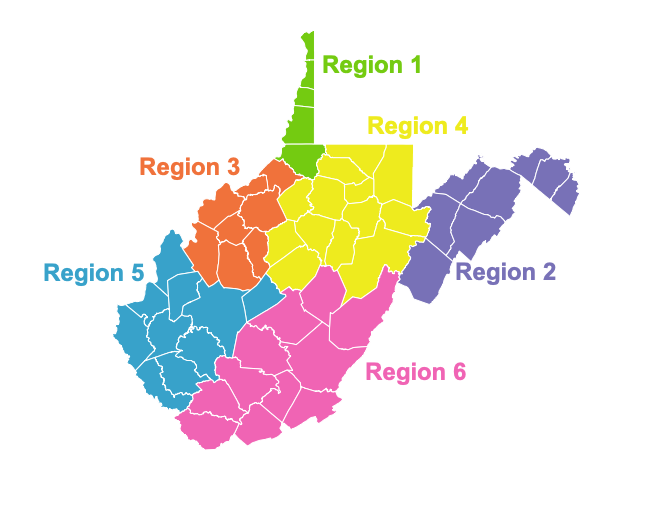 Prevention Lead Organizations (PLOs)
West Virginia has developed a prevention infrastructure to implement and support prevention efforts in the state, supported by federal and state funds and coordinated through DHHR's Bureau for Behavioral Health. PLOs provide services such as information dissemination, education, alternatives, problem identification and referral, community-based processes, and environmental strategies. PLOs use the Strategic Prevention Framework, which is a comprehensive planning framework, to address opportunities for improvement in their community. The West Virginia Prevention Network is based on evidence-based interventions and data that guide decision making related to identifying priority challenges that come from substance use to address in a community; choosing a course of action; and determining outcomes of the prevention interventions.PLOs house Regional Adult Intervention Specialists (RAIS) and Coalition Engagement Specialists (CES) who assist with providing direct services and coordinating prevention efforts at a local level.
More website resources:
Coalition Engagement Specialists (CES) CES coordinate collaborations between coalitions and stakeholders within their regions. CES coordinate organizations to complementary service providers in the area. To achieve the goals of collaboration and coordination, CES host quarterlystakeholder meetings. With stakeholder engagement and support, CES and the community will self-identify needs and collaborate to address opportunities for improvement. CES act as information hubs and network between organization that provide SUD or supportive services. Part of the CES services are to facilitate trainings and advertise educational/professional developmental opportunities. As part of the coordination of trainings and services, CES work closely with Regional Adult Intervention Specialists (RAIS) to ensure that prevention services reach the largest audience possible. A priority population for prevention includes individuals already in treatment and recovery for SUD.  With the expansion of SOR funded services, CES will accommodate to include linkages and coordination for stimulant use disorder and vaping.
More website resources:
For more information contact the regional CES or PLO.
Regional Adult Intervention Specialists (RAIS) RAIS aim to prevent vaping, stimulant and opioid-related overdose, increase access to medication for opioid use disorder (MOUD), reduce stigma associated with OUD and MOUD, and increase overall access to OUD prevention, treatment, and recovery services.  High-risk priority populations include veterans, men ages 35-54, pregnant/parenting women, and individuals involved in the criminal justice system, experiencing homelessness, or working in blue-collar professions.  Under the supervision of the PLOs and with technical assistance and guidance from Prevent Suicide West Virginia, RAIS conduct prevention interventions and education with adults. The goal of the interventions is to reduce or prevent substance use disorder and prevent suicide attempts and completions.  
For more information contact the regional RAIS, PLO or visit the following websites:
More website resources:
Families Strong
Families Strong is a support group developed to support families impacted by substance use disorder (SUD). The program focuses on helping family members develop self-care, build social supports, and learn effective motivational strategies for interacting with a loved one who is struggling with SUD.  Families Strong was adapted from an evidence-based, mental health professional-led model to be more accessible and sustainable by using a peer-led support group approach while incorporating educational materials to empower family members. 

The main goals of Families Strong are to:

Minimize the negative effects of an individual's SUD on family members and friends.
Provide support for family members and friends of individuals with SUD. 
Change the methods the family member uses to communicate with the person with SUD.  
Assist the person with SUD in getting treatment.

Groups meet weekly for 9 weeks, up to 2 hours per group, using a remote format that allows individuals to participate from the comfort of home.

For more information or to register for services, contact Dawn Brown, Lead Senior Behavioral Health Consultant, dbrown@groupmosaic.com or 443-525-1976.

Website: Families Strong
Sobriety Team and Recovery Team (START)
The START initiative places an emphasis on the growing population of children who experience mistreatment associated with parental substance use disorder (SUD). START will provide family members timely access to SUD treatment and support while allowing children to remain in the home with parents/legal guardians when possible. The START model is a collaborative between child welfare agencies and behavioral health partners. Child Protective Services will work with individuals and their SUD treatment providers to assess the safety of children in relation to the needs of individual care plans. The focus is on families, including men and/or women ages 18 and over, who are parents/legal guardians of minor(s), 17 years and younger and who are part of the Child Protective Services continuum of care suffering with SUD and/or OUD and co-occurring mental health conditions. 

For more information or to access services contact DHHR's Bureau for Children and Families at 304-558-0628.
Adolescent & Young Adults Resources
Expanded School Mental Health (ESMH)
ESMH is a comprehensive system of behavioral health services and programs that build on core services provided by schools. Currently there are 46 schools across 20 West Virginia counties that offer these services. ESMH includes the full continuum of prevention, early intervention, and treatment.  Prevention includes either increasing protective factors (e.g., resiliency, social involvement, recognition of positive behavior) or decreasing risk factors (e.g., preventing early initiation of substance use, rebelliousness, low socioeconomic status). The ESMH model emphasizes shared responsibility and funding, services for all students, meaningful involvement of parents and youth, evidence-based programs, and continuous quality improvement. The ESMH model consists of three tiers: Tier One, Universal Prevention Programming, is preventive, proactive, includes all students and offers school-wide academic assessments and primary prevention programs (e.g., suicide prevention, substance use prevention, anti-bullying, coping skills, resiliency, study skills, and other academic builders); Tier Two, Targeted Group and Individual Early Intervention, embraces at-risk students and includes referral services as identified, rapid response capability, study groups, tutoring, mentoring, after school programs, small group interventions to address anger, social skills, substance use and other needs, as well as some individual supportive services; Tier Three, Intensive Intervention, is intended for students who have more needs and require intensive individual interventions.
Website: West Virginia Expanded Mental Health
Children's Wraparound
Based on National Wraparound Initiative (NWI) model, the Children's Mental Health Wraparound delivers mental health services that are individualized, strengths-based, trauma-focused planning and intensive intervention in a community-based environment. A goal of this project is to preserve family relationships and empower children and families to meet their own needs. To be eligible, the client must be ages 0-21; have mental health or co-occurring diagnoses that substantially interferes with or limits their functioning in family, school, or community activities; at risk of placement, or are currently placed in a psychiatric treatment facility or acute care psychiatric hospital and cannot return home without extra support, linkage, and services provided by Wraparound; and are emancipated or in the legal custody of their parent or caregiver. 
For more information call, text, or chat the Children's Crisis and Referral Line 24 hours a day, 7 days a week, at 1-844-HELP4WV or 1-844-435-7498.
West Virginia Collegiate Initiative to Address High Risk Substance Use
Funded through the SAMHSA Partnerships for Success and SOR grants, this West Virginia Collegiate Initiative to Address High Risk Substance Use (WVCIA) grant will aim to prevent or decrease use of opioids, alcohol, intravenous drugs, and marijuana among high-risk West Virginia students ages 17-20 through selective and indicated prevention strategies informed by the Strategic Prevention Framework; local, state, and federal data; and targeted and culturally appropriate evidence-based practices.  Focus will be placed on students currently in or who have experienced foster care, food or housing insecurity, serious emotional disturbance, or serious mental illness.
Website: West Virginia Collegiate Initiative to Address High School Risk Substance Abuse
Teen Court
Teen Court is tied to the SOR outcomes of prevention and early intervention. Specifically, Teen Court aims to prevent youth and young adults between the ages of 11 and 18 from misusing opioids, stimulants, nicotine/electronic cigarettes, and other substances by providing positive alternatives and connections with peers and other supports to realize SAMHSA's eight dimensions of wellness. This unique "second chance" justice program for allegedly committed status offenses or acts of delinquency results in dismissed charges once the youth successfully completes the program. In addition to interrupting a developing pattern of inappropriate behavior, the Teen Court program helps to reinforce self-esteem, provide motivation for self-improvement, and promote a healthy attitude toward authority. Teen Court addresses responsibility for behavior and accountability to community and peers and enhances respect for the judicial process. Each participant in Teen Court, whether a defendant, juror, bailiff, teen attorney, or adult volunteer, is involved in a positive and meaningful way.
For more information, contact Natalie Keaton, natalie@strongcommunities.org
Family Treatment Courts (FTCs)
The SOR Family Coordinators promote coordination and integration of family-centered care to enhance the quality of life for every family and support increased resiliency. Coordinators ensure participation of the entire family in the treatment and recovery of a child, youth, or young adult with substance use disorder (SUD) and/or co-occurring mental health disorders. Coordinators are also resource brokers and connect families affected by SUD and/or co-occurring mental health disorders with support in communities around the state. Resources that Coordinators can help families access include SUD treatment, counseling, referrals to help manage a child's behavior challenges, assistance with the school system, support groups, and parenting classes. Once a referral to services is complete, the SOR Family Coordinator will continue to work with families to navigate through care. Family Coordinator services can be found at local mental health centers and are offered during both normal and non-traditional business hours to increase service access.
For more information, contact regional staff:
Region 1 Counties Served: Hancock, Brooke, Ohio, Marshall and Wetzel

Organization: Youth Services System, Inc.
Family Coordinator: Allison Meadows, ameadows@ysswv.com, 304-233-9627, ext. 320.  
Region 2 Counties Served: Pendleton, Grant, Hardy, Mineral, Hampshire, Morgan, Jefferson, and Berkeley

Organization: Potomac Highlands Guild (several locations)
Family Coordinator: Serena Redman, serenar@phgmail.net, 304-538-2302, ext. 233.
Region 3 Counties Served: Tyler, Pleasants, Wood, Ritchie, Jackson, Wirt, Roane, and Calhoun
Region 4 Counties Served: Monongalia, Preston, Marion, Doddridge, Harrison, Taylor, Barbour, Tucker, Gilmer, Lewis, Upshur, Randolph, and Braxton
Region 5 Counties Served: Mason, Putnam, Kanawha, Clay, Cabell, Wayne, Mingo, Logan, Lincoln, and Boone
Region 6 Counties Served: Webster, Pocahontas, Nicholas, Fayette, Greenbrier, Raleigh, Summers, Monroe, Wyoming, Mercer, and McDowell

Organization: FMRS
Family Coordinator: Kim Young, kyoung@fmrs.org, 304-256-7100, ext. 1258.
Intensive Outpatient Services (IOP) for Youth
IOPs provide wraparound support for patients in treatment by providing psychosocial supports and building life skills for relapse management and adjusting to life without relying on substances. Youth IOP enables short-term stabilization and helps to remove immediate risk of harm through both individual and group therapy. IOPs offer community-based educational programs focused on addiction, provide essential community access to treatment and recovery and facilitate initiation of patient-centered treatment for SUD, OUD, and mental health.
For more information: 
Drug Free Moms and Babies (DFMB)
The goal of Drug Free Mom's and Babies (DFMB) is to support healthy pregnancy outcomes by providing prevention, early intervention, addiction treatment, and recovery support services for pregnant and postpartum women with a substance use disorder (SUD). Typical services may include General Health Screens, Brief Motivational Interviewing, Screening and Brief Intervention for Tobacco Cessation, Facilitated Community Referrals, Relapse Prevention, Physical Health Promotion, and Wellness Recovery Support. 

For more information, contact the WV Perinatal Partnership, Janine Breyel, jbreyel@hsc.wvu.edu, 304-216-3437.
Child Care Resource and Referral (CCR&R)
The CCR&R organizations are regional contacts for child care in West Virginia. The SOR program provides free child care services to parents or legal guardians who are in a treatment or recovery service for SUD. SOR subsidized services are free AFTER confirming eligibility. To qualify, legal guardians need to provide proof of:
Adult's Identity – driver's license or state issued ID
Residency – driver's license or utility bill
Child's U.S. Citizenship – birth certificate and/or citizenship documents 
Concise Student Schedule – print out of days and times attending classes
Qualifying Activity – SOR referral form 
A treatment provider will complete an SOR specific referral form. The referral form will be given to the local CCR&R for intake. Once eligibility is confirmed, the client will be given a list of child care providers. The client will select and contact their child care program of choice and receive a child care certificate and coupon to be given directly to the child care provider.
For more information or to access services, please view the map for regional contacts.